GP Davinder Jeet Bains jail sentence reduced from 12 years to 10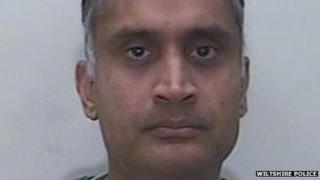 A doctor from Wiltshire who appealed against his 12 year jail sentence, for secretly filming his female patients, has had it reduced to 10 years.
Davinder Jeet Bains pleaded guilty to 39 sexual offences in May last year.
The 47-year-old GP who worked at a practice in Royal Wootton Bassett, filmed the attacks using cameras concealed in two watches.
The original sentence was quashed at a hearing at Canterbury Crown Court earlier.
'Breach of trust'
At the appeal hearing, Lord Thomas told the court that although Bains's behaviour had been a "gross breach of trust" the original sentence, for 13 offences of assault by penetration, would be reduced to eight years.
He said this was after taking into account the "penetration had been minimal and brief" and there had been "no violence".
He also re-sentenced Bains, for 11 sexual assaults and 13 counts of voyeurism, to run concurrently to the eight-year sentence.
Lord Thomas added a further two years of imprisonment for two counts of sexual activity with a child, bringing the total sentence to 10 years.
Bains used a secret camera hidden inside his watch to film assaults on women at the medical practice in Wiltshire, where he was a trusted GP.
He committed offences against 27 women - aged from 14 to 51 - between July 2009 and June 2012.
Bains was struck off the medical register in August and declared unfit to practise medicine again in the UK.