Work begins on South Wiltshire UTC college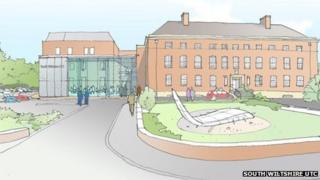 Work has begun on a university technical college in Salisbury.
The £8.5m South Wiltshire UTC will be built on the site of the former Wilton Road police station, which was vacated by Wiltshire Police at the end of June.
The UTC, specialising in science and engineering, will cater for 14 to 18 year olds, teaching vocational courses alongside mainstream academic subjects.
It is due to open on 1 September 2015 and will eventually have 600 pupils. It had been due to open in September 2014.
However, it was announced in August 2013 that the police station was to remain open for another year.
'Next generation'
Principal designate Gordon Aitken said UTCs were "brand new types of schools".
"I think the nice thing with UTCs is that there is no identikit of what they should look like," he said.
"What we will do is add a little bit of new build to it [and] merge the two existing buildings into one.
"We will be totally gutting the inside of the two buildings, and turning them into really modern learning studios and spaces, where the students can learn to become the next generation of scientists and engineers."
As well as refurbishing the two existing buildings, the UTC is adding 1,000 sq m of new build, including a 160-seat lecture theatre and a canteen.