Averies to move 3,000 tonnes of rubbish off-site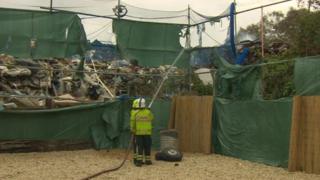 An enforcement notice has been served on a recycling firm to move 3,000 tonnes of smouldering waste from its Swindon site so an ongoing fire can be put out.
Firefighters have battled the fire at Averies but have struggled to get close to the source of the blaze because of the size of the rubbish pile.
The Environment Agency said Averies had so far failed to remove the waste.
Averies Recycling Ltd refused to comment.
'No fresh air'
Removal work begins on Friday and waste will go to a permitted site, the location of which has not been made public.
Averies will be required to cover the cost of moving the waste.
The enforcement action by the Environment Agency is the latest step being taken by authorities to deal with the blaze.
A previous plan to temporarily move some of the rubbish to a former park and ride site in Swindon met local opposition.
The burning rubbish pile has caused large clouds of acrid smoke to drift across the town.
Andrew Bailey, who runs a car repair centre near the fire, said: "It's shocking. It's disgusting. The smell's awful. We've had hot temperatures, a lovely summer and no fresh air.
"We can't open any windows. We're really worries about the staff's health. [The smell] penetrates into our workshops and we can all smell smoke - we go home smelling of smoke.
"It's miserable; the whole situation's miserable. It's been very difficult."
Scott Taylor, Wiltshire Fire and Rescue Service said his crews had surrounded the fire, which had "settled down".
Mr Taylor added: "We're moving to a more aggressive phase and we can see how big the fire is, which is deep-seated.
"We might be able to speed up our operations. We're hoping to maybe progress that soon but we can't give a definitive date."