Savernake Forest barriers protect 'important trees'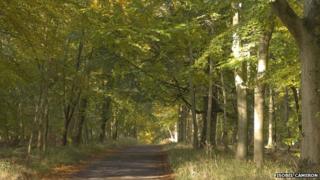 Wooden barriers have been installed in parts of Savernake Forest to protect "internationally important trees".
The Forestry Commission has put logs across some access points and roads to stop people parking on grass and picnic areas at the site near Marlborough.
A spokesman said it had restricted parking because cars compact the soil and damage roots.
"We are investigating other options so that the public can continue to enjoy visiting the forest," he added.
The forest extends across 2,750 acres (1,100 hectares) most of which is classified as a Special Site of Scientific Interest (SSSI) as well as being registered as an important historic park.
Since 1939 the majority of the woodland has been managed by the Forestry Commission, with the freehold retained by the Savernake Estate.
The government department said the forest, which borders the A346 and the A4, had an unusually large and internationally recognised collection of veteran and ancient trees.
"Savernake's ancient and veteran trees are internationally important as one of the largest collections of such trees in Europe, some of them estimated to be more than 1,000 years old," the spokesman added.
"The picnic area where the barriers have been erected contains several veteran and ancient trees and, along with much of the forest, it also lies within an SSSI which we have an obligation to protect."
Some of the trees have been given name such as Old Paunchie, the Crockmere Oak, the Spider Oak and Big Bellied Oak.