Girl Guides' harmful flowers planted in Wootton Bassett removed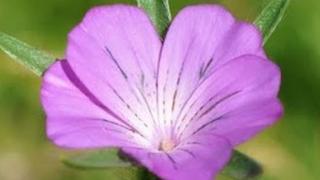 Wild flowers that could prove harmful if ingested have been removed from a public park in Royal Wootton Bassett.
Corncockle seeds were planted by a girl guide group in Jubilee Park as part of a wildflower sowing project in May.
But the plant contains a poison that can cause stomach pain, vomiting and diarrhoea if eaten in large quantities.
The local authority was alerted to the plant's identity by a member of the public and had it removed as "a precautionary measure".
'Potentially harmful'
A spokeswoman for Royal Wootton Bassett Town Council said: "It was brought to our attention by a member of the public that the flowers were potentially dangerous and they were growing right next to a path area where children walk, so we thought it prudent to remove them."
The 2nd Royal Wootton Bassett Guides planted the seeds as part of the Kew Gardens nationwide Grow Wild scheme, which was supported by the BBC's Countryfile programme.
A spokesperson from the group was unavailable for comment.
The Royal Horticultural Society said the corncockle was a "very rare wildflower" that can only be found "in a very few isolated pockets".
Chief advisor Guy Barter said it could be "potentially harmful" if consumed.
He said to refrain from eating any plant not known to be edible and wash hands after touching vegetation.
However, a Kew Gardens spokeswoman said no fatalities from ingestion of the plant had ever been recorded.