Plan to map Marlborough fire risk under way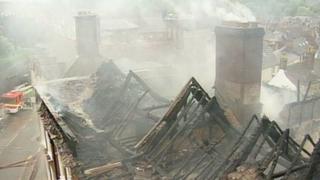 A survey to stop a repeat of a devastating fire in Marlborough's historical High Street by mapping the roof spaces is under way.
In June 1998 flames quickly spread from building to building through the shared roof space.
Firefighters are visiting homes and businesses so they can identify the routes fire would be likely to travel.
Paul Jarmey, from Wiltshire Fire, said compared to a modern building any blaze would spread much quicker.
"When the High Street was built modern building methods were not in place.
"It's likely to take hold considerably faster than if we had the same fire in identical premises built within the past 10 or 20 years," Mr Jarmey added.