Swindon Oasis Leisure Centre: Doubts over revamp as deadlines missed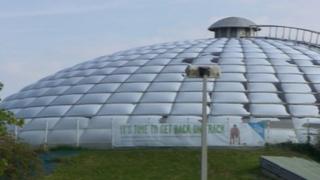 A developer behind a planned £90m revamp of a Swindon leisure complex could have its contract stopped after failing to meet deadlines.
Moirai Capital Investments began running the Oasis Leisure Centre in 2012 and promised work including replacing the distinctive domed roof.
The firm missed a March deadline to apply for planning permission.
Swindon Borough Council said it would consider "conversations" with other firms. Moirai has declined to comment.
Council leader David Renard said it would involve other companies if it had to.
Despite the problems over the redevelopment, the 38-year-old centre has remained open to the public.
When Swindon Borough Council transferred the lease to Moirai, the authority said it had to find "external investment" as it did not have the funds required to bring the building up to modern standards.
Moirai's plans included the redevelopment of the surrounding North Star site with a music and entertainment arena, a real snow ski slope and a multiplex cinema.
'Revised dates'
Four long-term leases, covering the Oasis and the North Star site were granted. Moirai did not pay for the leases, but it pays rent to the council for the Oasis.
Last month, Swindon Borough Council extended the planning application deadline for the whole development site to May 2015, after the firm failed to meet the original deadline.
The council has requested Moirai submits a programme of works by the end of September.
Conservative David Renard said the council had agreed to "some revised dates" and would be "holding" Moirai to the new deadlines.
He added: "These are lines in the sand now because we can't keep missing these dates."
Labour councillors are now calling for the contract to be cancelled.
Labour councillor Jim Robbins said: "We're not getting any concrete action from Moirai. They've broken a number of terms in the contract and it's how long can we really let this drag on for?"