Cost of fire clean-up at Swindon recycling site reaches £500,000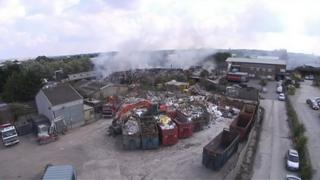 The cost of removing waste from a recycling centre in Swindon which has been on fire for nearly two months has reached £500,000, the Environment Agency has revealed.
About 3,000 tonnes of waste has been removed from the Averies site so the fire can be fully extinguished.
The clean-up cost covers the removal and depositing of the waste but not "other associated costs".
The waste is mainly non-recyclable, commercial material.
The Environment Agency said the fire caused "minor" pollution to local water courses, but said it believed it had "returned to pre-incident levels".
The body said it was currently investigating whether any offences had been committed, and confirmed the cause of the fire was being investigated by the fire service.