Wiltshire village unveils memorial to Spitfire pilots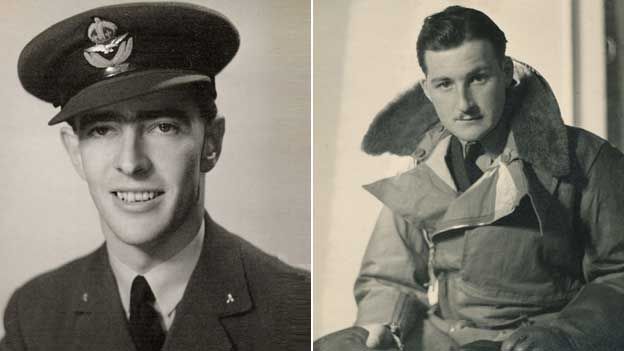 A memorial to two RAF pilots killed over Wiltshire, has been unveiled 73 years after their deaths.
Flying Officer John Brewster and Pilot Officer Harold Williams were killed in 1941 after their Spitfires collided over Lower Seagry, near Chippenham.
More than £5,000 was raised for a memorial to be erected in the village, near to the crash site.
Martin Painter, one of the organisers, said: "It brought a lump to my throat to see it - it's been very humbling."
Based at Filton near Bristol, the two pilots were on a training flight out of Collerne when their Spitfires collided in April 1941.
"They were practising dog fighting over the village," said Mr Painter.
"During one of these mock attacks one of the pilots - Harold Williams - came in too close to John Brewster's aircraft and basically took his wing off."
The mid-air collision was witnessed by Douglas Wiltshire, 95, who has lived in the village all his life.
"I was walking up the road and saw these two aircraft - one came out the low cloud into the other one and took one of its wings," he said.
"One went one way and one went the other and one crashed in Seagry Wood."
Rosemary Kingstone, said her father also saw one of the planes on fire, crash near the village.
"He couldn't do anything to help the pilot," she said.
"He was only a very, very young man - it was very sad for him to see it."
Related Internet Links
The BBC is not responsible for the content of external sites.