Averies fire extinguished after two months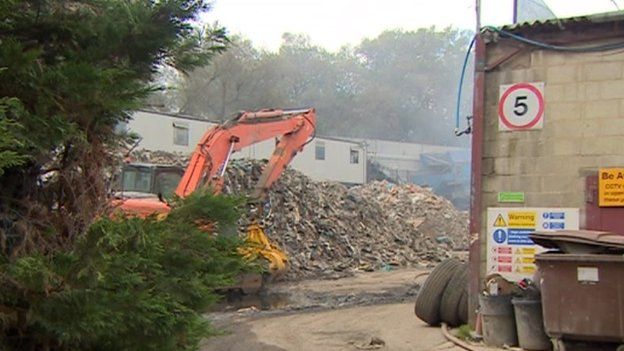 A waste fire that has been burning for two months at a Swindon recycling plant has been extinguished.
The blaze began at Averies Recycling on 21 July but efforts to put out the burning waste stack were hampered by compacted rubbish preventing access.
About 3,000 tonnes of waste was removed from site at a cost of nearly £500,000 so the fire could be extinguished.
Swindon Borough Council said fire crews and the Environment Agency would leave the Marshgate site on Tuesday.
Due to "insufficient space on site" firefighters were initially unable to tackle the blaze "aggressively".
But in the last two weeks, excavators have been digging out the stack to break it down and crews have used thousands of litres of water per minute to extinguish the burning waste.
Bernie Brannan, chair of the group co-ordinating the multi-agency plan, said the news would be a "huge relief for everyone, particularly those people directly affected by the fire".
"Considerable resources have been used in the process and we shall endeavour, in the interests of the public purse, to recover costs involved."
The Environment Agency said the cause of the blaze was being investigated by the fire service.
Related Internet Links
The BBC is not responsible for the content of external sites.