Roger Hayward help delayed 40 minutes by electrocution fear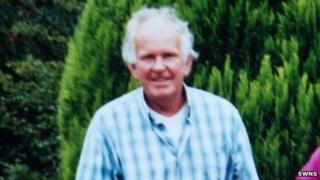 A 71-year-old man was left lying in the road for 40 minutes after suffering a heart attack as he tried to move a fallen tree, an inquest heard.
Roger Hayward, of Bremhill, Wiltshire, used his chainsaw to cut up the tree which had brought down power cables.
Salisbury Coroner's Court was told paramedics attended, but were told not to tend to him due to fears the cables were live and he had been electrocuted.
The inquest concluded Mr Hayward died from natural causes.
Not resuscitated
The court heard paramedics were only able to tend Mr Hayward 40 minutes after arriving on the scene when the electricity board confirmed the power was off.
Mr Hayward was not resuscitated due to the period of time he had been lifeless on the ground.
He was later pronounced dead.
The inquest was told the power lines had been off for at least 30 minutes before Mr Hayward attempted to move the tree and his death was caused by a heart attack.
Mr Hayward's widow Celia Hayward, 69, said: "They might have been able to help him if they knew there was no electricity going through the cables."
Ian Singleton, assistant coroner for Wiltshire and Swindon said: "Roger Hayward was using a chainsaw attempting to cut up a tree that had fallen across the road outside his property.
"He suffered a heart related incident that led to his death."