Call for Swindon fire-hit recycling site to be closed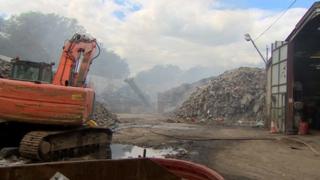 Councillors are calling for the closure of a recycling plant in Swindon, following a two month fire at the site.
The blaze began at Averies Recycling on 21 July but was only put out on Monday after 3,000 tonnes of waste was removed from site to give firefighters access.
Swindon Borough Councillors will vote later on whether to pursue "all legal avenues" to close the Marshgate site.
Labour's Mark Dempsey, said it would be "astonishing" if Averies was allowed to open "without sorting things out".
The motion for the closure of the Averies site has been put forward by Conservative councillors at the Tory-led authority.
A second motion for a full inquiry to call Averies, the authority and the Environment Agency and "hold them to account", has also been made by Mr Dempsey.
"We need an inquiry to understand why this was allowed to happen, how the site got into the state it was in and to make sure that it doesn't happen again," he said.
"We also need to understand why the council and the Environment Agency didn't step in earlier to get this site back into a decent state and stop a fire taking place."
Averies Recycling was contacted for comment but has yet to respond.