Forces in Mind Trust supports carers from military families in Wiltshire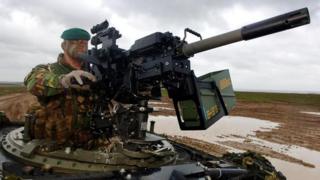 Carers of ex-servicemen and women who have severe mental illnesses are getting online help in a new project.
Mental health charity Wiltshire Mind has received a £100,000 grant from the Forces in Mind Trust for the scheme.
Fifty carers in Wiltshire will be offered online access to clinicians for tailored sessions on the specific problems military families experience.
Issues being covered include post-traumatic stress disorder and how to help loved ones going through it.
Isolated carers
According to Wiltshire Mind there are an estimated 45,000 carers [not just from military backgrounds] in the county and 80% are not known to authorities.
David McKeigue, chief executive of Wiltshire Mind said: "The individual cases are carers being isolated, being lonely at home, living their lives through their cared-for person and that brings with it a higher incidence of mental health problems like stress, anxiety and depression."
He added that carers from military families also tended to miss out on getting help via GP surgeries as they moved a lot so being added to waiting lists for NHS support was not always practical.
The hope is to roll out the project nationally and secure funding via local Clinical Commissioning Groups to maintain services.
The charity chose Wiltshire as a test case, as the county is home to an expanding army base on Salisbury Plain with many families having links to the armed forces.
Salisbury Plain is also the largest military training area in the UK.
The support sessions will be delivered by Healios which specialises in helping carers across the UK whose loved ones have mental health problems.