Salisbury Museum's WW1 exhibition opens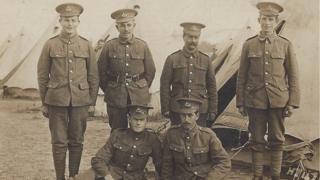 An exhibition has opened in Salisbury focussing on the city's efforts during World War One.
The event at Salisbury Museum covers themes such as how Salisbury Plain was used to prepare troops for battle.
Ruth Butler, from the museum, said: "We also wanted some individual testimonies to get in to how people were living through this cataclysmic event."
One story covered is that of Salisbury's only Victoria Cross recipient, Tom Adlam.
Mrs Butler said: "He was a Salisbury boy, born and bred... he went on to train as a teacher just before the war.
"He eventually found himself on the Western Front and led an amazing, brave attack on the German lines just after the start of the Somme and for his efforts was awarded the Victoria Cross, which is the highest award for gallantry."
The exhibition runs until mid-January 2015.