Minety level crossing barriers cause concern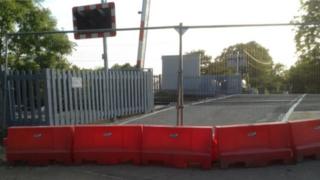 Fears have been raised over the safety of a newly designed level crossing which is due to open in Wiltshire.
The crossing at Minety near Malmesbury will no longer be manned but instead will have automated barriers left up unless a train is to pass through.
Resident Stuart Richens said: "We're going to have a crash with two vehicles racing to make the barrier."
Network Rail said it was speaking to residents and Wiltshire Council to resolve any concerns they had.
'Improve safety'
A company spokesman said: "The crossing itself has been built to plans approved by the local authority, but we will continue to look at ways to improve safety on our network."
Several people in the village lobbied to have the road closed when the revamp was first proposed.
But a parish council survey found 800 people wanted the road kept open.
Councillor for Minety Chuck Berry said investigations were taking place to see if the view across the crest affected road safety due to the reduced visibility.
Wiltshire Council has asked for anyone concerned to raise the matter during local area board meetings.
The refurbishment is part of major improvements being made to the Swindon to Kemble line.