Thatcher puts dozens of 'time tins' in Wiltshire cottage roofs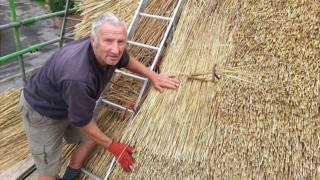 Over the past 35 years dozens of time capsules have been secretly hidden in the roofs of cottages across Wiltshire.
More than 40 biscuit and travel sweet tins have been quietly buried in the thatch of homes across the region, by Figheldean master thatcher Brian Chalk.
Each "time tin" contains a coin, information about Mr Chalk and "a few old wrappers of chocolate bars".
He said: "I used to do it on every roof but I don't think, early on, I bothered saying anything to anyone."
Mr Chalk, who has worked as a thatcher since the late 1970s, said he "doesn't know how it started" but over the years he has found a "few things" himself in the thatch.
"We've found envelopes, magazines, clay pipes, several old trousers, leather golf balls and even a policeman's bicycle lamp shoved up in the thatch," he said.
"In the 1900s, they wouldn't have had any newspapers to fill up a hole, so people used what they had.
"I've never found someone else's time capsule but it's probably what gave me the idea."
Along with notes about his family and the front and back pages of a newspaper, Mr Chalk said he also puts a coin in his tins.
"I don't put a pound in. It's usually a 1p, 2p or 5p but I try and get the year on the currency," he said,
'Some tins found'
Working on up to six homes a year, he admits not all his customers have been told tins have been buried in their newly finished thatch.
"On one occasion I told the customer and she said she must put something in it as well," he said.
"She put a whole ream of stuff in, so we had to get a bigger tin and make a bigger hole in the thatch."
But with the life span of thatch estimated to be between 25 and 40 years, Mr Chalk said his time tins are beginning to be discovered.
"I've forgotten some of them but other thatchers have since found a couple of my tins," he said.
"But I'm hoping that maybe in 100 years, when all local knowledge has gone, they'll be found."