Campaign to cut crashes on A3102 near Calne in Wiltshire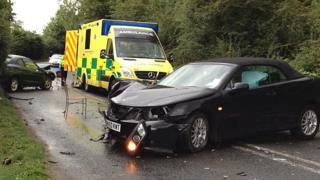 A campaigner who says she has witnessed "20 major crashes" outside her Wiltshire home, is calling for the A3102 near Calne to be made safer.
Sharon Wetton is urging the council to improve signage and reduce the 50 mph speed limit at Mile Elm.
In March, a 43-year-old woman from Worton was killed in a crash there.
Wiltshire Council said it was "awaiting the coroner's report" into the crash and would "consider any recommendations made about improving road safety".
Ms Wetton, who has lived in Mile Elm since 2007, said: "My hearts races, I come outside and think am I going to find them dead? What's the situation I'm going to find?"
"There are no warning signs whatsoever to indicate that this is a dangerous bend and residents are sick to their back teeth of nothing being done to try and make the road safer."
Wiltshire Council said only one fatal accident and three "injury accidents" had been recorded by police in the past three years.
"We're committed to reducing collisions on our roads and they've decreased significantly over the last few years," a spokesman said.
"We're always happy to work with our communities through the area board's Community Area Transport Group to talk about highway matters."