Earl of Cardigan loses appeal over sale of Tottenham House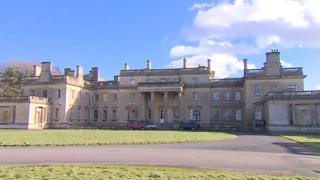 The Earl of Cardigan has failed in his bid to block the sale of the family's ancestral home in Wiltshire.
Trustees have approved the £11.25m sale of Tottenham House, a 100-room stately home on the 4,500-acre Savernake Estate.
The earl took the case to the Court of Appeal, saying the fee is "inadequate" and the result of an ineffective and inadequate marketing exercise.
But appeal judges unanimously agreed to dismiss his objections.
Tottenham House, near Marlborough, has been in the family for nearly 200 years.
But Lord Justice Vos said it had been unoccupied since the 1990s and was decaying.
"Everyone now agrees it must be sold; what is in dispute is the process by which the sale should be achieved," he said.
The judge said the estate's trustees were seeking approval "for their momentous decision" to sell Tottenham House to an unnamed buyer, known only as Mr A, for £11.25m.
They said the intended sale price was a "good one that represents an opportunity not to be missed".
But the 60-year-old aristocrat regarded the price as "inadequate" and took legal action to have the trustees removed "broadly on the grounds that they are unfit to act".
Dismissing the earl's appeal, Lord Justice Vos said the trustees' decision to sell to Mr A was "one which reasonable trustees could properly take in the interests of the beneficiaries".
The main beneficiaries of the trust, according to the judge, are the earl and his son, Lord Savernake.