Stonehenge tunnel plans considered by government again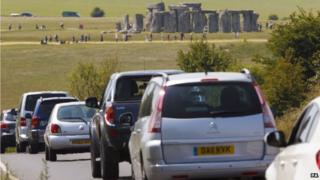 Plans to build a tunnel underneath Stonehenge are again being considered by the government.
Similar proposals were dropped seven years ago on cost grounds.
The plans are being discussed by a working group that has been looking at ways to reduce congestion on the A303 since the spring.
English Heritage and the National Trust said they were working with the Department of Transport to identify a solution "including a tunnel option".
An announcement about upgrading the whole A303 is expected in the Chancellor's Autumn Statement, in six weeks.
The working group has been looking at a variety of ways to improve the road, from Hampshire to Devon, and it is thought some parts of the single carriageway could be dualled.
'Range of options'
John Glen, the Conservative MP for Salisbury, reignited calls for a tunnel to be constructed alongside the Stonehenge monument in March.
He said any decision to make the A303 a dual carriageway must include protection for the World Heritage Site and a tunnel was the only "realistic solution".
In a joint statement, English Heritage and the National Trust said: "We will work with the Department for Transport to identify a solution that both improves the World Heritage Site and is achievable, including a tunnel option."
On its website, the National Trust says: "We believe building a tunnel under the landscape is the best way of improving the quality of this special place whilst at the same time significantly improving a major transport link for the South West.
"We would like to see the longest possible tunnel but we recognise that any plan needs to be both affordable and deliverable if we're to finally solve this long-running challenge."
'No decision made'
A Department for Transport spokesperson said: "We are discussing a range of potential options for improving the A303/A30/A358 corridor with interested parties to understand their views, including consideration of the section of the A303 that passes Stonehenge.
"As part of this process we have worked closely with key organisations, including English Heritage and the National Trust, to assess the impacts of potential options on the Stonehenge World Heritage Site.
"No investment decisions have been made as this is work in progress and, when completed the study outcomes will inform the government's 2014 Autumn Statement."