Stonehenge may be mentioned in 8th Century poem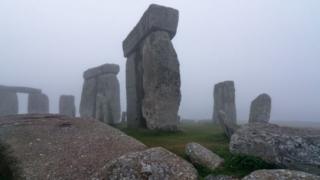 An 8th Century poem, thought to have been written about Bath, could be the oldest surviving text to describe Stonehenge, an academic has claimed.
Mediaeval language expert Dr Graeme Davis said the poem could pre-date a previous text by several hundred years.
The poem, called The Ruin, mentions stones called "the old ones" or the "elders" and describes a warm spring similar to one found at Blick Mead.
Nearby Amesbury was recently named the oldest continuous settlement in the UK.
The town, including Stonehenge, has been continually occupied since 8820BC, experts have found.
Mr Davis, a research fellow at the University of Buckingham, said he knew of the poem for "many years" and his new translation took ten hours to complete.
"Reading it through, it's describing a ruin and Stonehenge. There are so many references to curved beams, and a ditch around it, so it doesn't appear to be Bath."
The poem, which is part of the famed Exeter Book, also describes how "fate has shattered the wondrous, mighty stones" and how the stones have "fallen".
The manuscript is currently in Exeter Cathedral Library and Mr Davis said it was possibly transcribed in Winchester.
Previously, Mr Davis said, the name Stonehenge had originated from an 12th Century text from Henry of Huntington.
But if Mr Davis is correct, the reference to "the elders" would pre-date this by several centuries.
A spokesman for the Amesbury Museum and Heritage Trust said the poem "unlocks another clue to Amesbury's significance in British history."
English Heritage said it was unable to comment but Stonehenge druid Frank Somers said he was "delighted" with the discovery.
Extracts from The Ruin
"Fate has shattered the wondrous, mighty stone. The city is broken, the work of giants has perished.
"The top parts have fallen, the high rocks tumbled, the beams are bereaved, the mortar has failed ... the old ones are eaten away.
"Before in this place has been many men, joyous and splendidly adorned, with treasure, silver, worked gems, wealth, riches...
"Near where the raised stones stand there is a warm stream with a wide spring."
Source: Amesbury Museum