Swindon's Great Western Hospital gets dementia friendly ward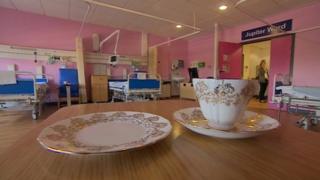 A dementia friendly ward has opened at Swindon's Great Western Hospital.
Discreet adaptations, such as clocks that help patients distinguish between night and day and a matt finish floor to reduce falls, have been made.
The changes are aimed at reducing anxiety, improving confidence and supporting quicker recovery.
The £98,000 cost of the changes was raised by the hospital trust and its charity Brighter Futures.
The transformation was made using the principles of Kings Fund research into dementia friendly design and international best practice in dementia care.
Dementia patients often have difficulty understanding time and place and can become confused in unfamiliar environments.
'Feel safer'
The ward has therefore been made to feel more homely with a lounge area for visitors and patients.
Each bay is painted a different colour with an associated picture to make it easier to recognise.
Coloured plates have also been introduced to ensure there is contrast with food, as patients with dementia have a tendency not to notice pale-coloured foods on light plates.
There are also dark toilet bowls and handrails to ensure they stand out to patients.
Wendy Johnson, matron for older persons' care, said: "What it will mean is when people come into our environment they will feel safer and because they will feel safer they will eat better and sleep better.
"They will be less likely to get an infection and therefore they will recover from their illness quicker and they will have a much more positive care experience because they're in an environment that will suit their needs."
The team will also be piloting a project with volunteers to encourage more social interaction at meal times by bringing the tables together and encouraging patients to both eat and engage in conversations.