Network Rail bridge closure 'worsens Swindon roadworks misery'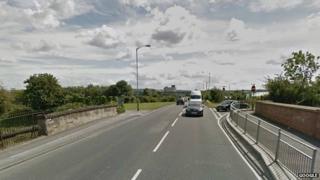 Traders in Swindon have said they are frustrated over further planned roadworks and a bridge closure.
Network Rail has closed Stratton Green bridge on Swindon Road for the next five months and water firm Thames Water is starting works on Northern Road.
Trader Steve Law, from Swindon Mobility, said: "Why don't they put a sign up and say Swindon is shut?"
Swindon Borough Council has said the roadworks and bridge closures have been carefully co-ordinated.
Work begins on the Stratton Green bridge on Monday ahead of a road closure from Monday, 17 November.
Roadworks are already under way on Bruce Street Bridges, near the Great Western Hospital and Drakes Way.
'Continual road works'
Cabinet member Dale Heenan said: "We've encouraged the utility companies to work with the council so when we do one area they also do their work.
"This work does need to go ahead and it's far, far better we do it now and get it out of the way for the next couple of months rather than have a continual road work schemes happening in Swindon for the next two or three years."
But many traders in the affected areas in Bruce Street and Cheney Manor have said their businesses have seen a drop in trade.
Mr Law said: "It's been an absolute nightmare, customers can't get to us and if they do they can't get away again because the traffic is just snarled up everywhere."
Michael Wilson, an electrician on Rodbourne Road, said: "We have seen a drop in our business.
"The other day we had to go over to Shrivenham, we spent 45 minutes in just one part of roadworks which obviously cost us money."
The bridge at Stratton Green is being upgraded as part of a major rail electrification programme between London and Cardiff.
The bridge will be raised to make room for the new electrification equipment.
Andrew Haynes from Network Rail said: "There's a huge amount of work we've got to do to transform this railway... we've got 100 or so other structures to do, so each one has to go through a particular sequence in the programme in order that the whole area is completed efficiently and on time."