Metal detecting finds go on show at Salisbury Museum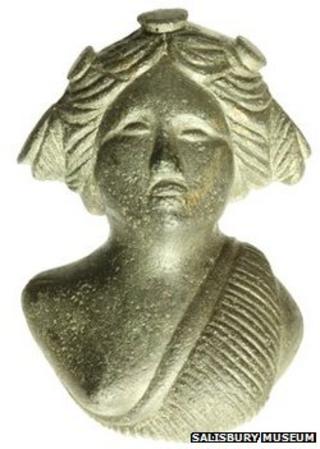 A selection of objects found by a husband and wife metal detecting team over a 20-year period have gone on display at Salisbury Museum.
Objects found by Brian and Val Rees in the Deverill valley near Warminster, include a Roman bust, a medieval tag and gilded medieval brooch.
Other items found locally by members of the public are also on show, including a medieval seal and a Bronze Age sword.
A fragment of a Bronze Age spear and a Roman bowl are also on display.
A museum spokesman said Mr and Mrs Rees had been working closely with the Portable Antiquities Scheme for the past 11 years.
The scheme was set up in 1997 to encourage the voluntary recording of archaeological objects found by members of the public.
Museum director Adrian Green said: "I'm delighted to have the opportunity to show just how important the work of some talented local detectorists has become.
"Since they've been co-operating with the scheme, their work has contributed enormously to our understanding of the history of Wessex."
The temporary exhibition will be on show in the museum's new Wessex Gallery of Archaeology until the end of February.