Salisbury Plain schools to expand under army base growth plan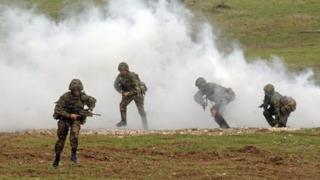 Schools on Salisbury Plain are set to be built or expanded to cater for an influx of army families.
Some 4,300 soldiers and their families are to move to Wiltshire from Germany and UK bases in the next six years.
Lucy Scott, of the Army Families' Federation, said: "We're very keen that the local area does have enough school places for everyone."
Wiltshire Council has said the schools' growth relied on government education funding and the sale of land locally.
The council also agreed school places for both populations - those coming army families and the local community was a priority.
The new primary schools are expected at Larkhill and Ludgershall, while Bulford Primary is set to increase its pupil numbers.
'Complex package'
Avon Valley College in Durrington is expecting almost double its student numbers, from 625 to about 1,100.
Stonehenge Secondary School in Amesbury is planning a complete rebuild.
Head teacher Nigel Roper, said: "Demand is initially going to be in the primary sector but shortly after that, those primary school children will need secondary school provision.
"We know that the current site and the current buildings won't be big enough to accommodate all the young people needing secondary education."
Funding bids have been made by the schools for the rebuilds in Amesbury and Durrington to the Department for Education.
The council is also working with the Ministry of Defence to fund the schools expansions to ensure there are enough places.
Cabinet member for schools, Richard Gamble, said: "The more domestically-generated growth which will particularly affect Amesbury with their expansion in different areas, requires co-operation with developers and with the sale of land, so is probably a more complex package.
"I share Nigel Roper's ambition to rebuild the school - we're working with the Department of Education on the need for replacing that facility."