Bradford-on-Avon Christmas tree design described as 'a total mess'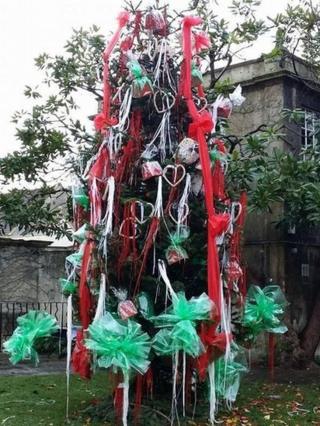 A newly-decorated Christmas tree in a Wiltshire town has been described as "a total mess" by residents.
The tree, in Bradford-on-Avon, complete with red and green ribbons, was decorated by Pavilion Cafe owner Andrew Allen.
Mr Allen was brought in after the decorations on last year's tree were described as "dull and boring".
But some users on Facebook have likened the "gaudy" design to "an explosion in a rag factory".
'Conservative town'
"We wanted to do something big and bright and something different and eye-catching," Mr Allen said.
"I think it's easy to criticise and easy to point at something that's different and maybe something too soon for a conservative town.
"But, the kids love it and Christmas is for the kids. There's too much misery in the world.
"It's got people talking and people talking about the town so it can't be bad," he added.
Simon Hamed, the manager of the Pavilion Cafe, said some people said the design by his boss was "a bit too much".
"He just wanted to liven it up a bit and he's definitely done that and a lot of people appreciate the new, modern look," said Mr Hamed.
The switch-on for the lights on the tree is due to be held on Friday evening.
Do you have an image of a Christmas tree to rival that of Bradford-on-Avon? Send your pictures and videos to yourpics@bbc.co.uk or text them to 61124 (UK) or +44 7624 800 100 (International). If you have a large file you can upload here.