Devizes Assizes Courts undergo emergency repairs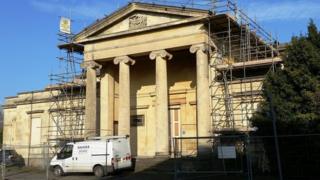 Emergency repairs to a listed derelict courts building have begun after a council warning to the owners.
Assizes Courts in Devizes was built in the 1830s but has been left derelict since the 1980s when the magistrates court service ended.
Developers, Gatewell, have been told to carry out temporary roof repairs, secure windows and clear vermin.
The council and developer have said they are trying to find a long-term solution for the courts building.
The Urgent Works Notice that has been imposed means the owners are obliged to carry out the repairs and pay the costs themselves.
If they do not, the council will carry out the work itself and recover the costs from the owners.
In 2011, the company was given planning permission to convert the building into flats but this work has not begun.