Sir Patrick Moore's archive acquired by the Science Museum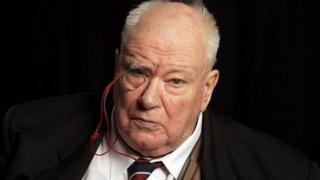 A collection of manuscripts and memorabilia from the archive of TV astronomer Sir Patrick Moore has been acquired by the Science Museum.
Sir Patrick, who presented the BBC's The Sky at Night for over 50 years, died on 9 December two years ago.
His extensive personal archive will be kept at the Science Museum Library and Archives at Wroughton in Wiltshire.
Queen guitarist and astrophysicist Dr Brian May said he was "thrilled" a "fitting home" had been found.
Sir Patrick, who holds the record as the longest-running host of the same television show, presented The Sky at Night from April 1957 until December 2012.
For more than 40 years, he lived and worked at Farthings, in West Sussex, where he built up an extensive collection of objects and written material including draft scripts and memorabilia from the BBC programme.
Among the objects acquired by the Science Museum is a reflecting telescope which Sir Patrick nicknamed Oscar and used for mapping the moon.
The archive also contains 70 of his observation books, with detailed drawings and records of the night skies spanning more than 60 years.
Brian May, who published a book on astronomy written with Sir Patrick, said friends had "worked for a year" to find the "most fitting home" for the archive.
'Life's work'
"We're sure Patrick would be honoured that his legacy, a national treasure, will be in the perfect place - with plans for the material to be accessible to future generations," he said.
"We feel there is no more fitting resting place for Patrick's legendary life's work."
Alison Boyle, from the museum, said the collection would "inform the museum's future astronomy and space displays".
"This archive will become an important resource for all historians of popular astronomy," she said.
Once catalogued, the archive will be available to the public for research purposes.