Wiltshire air ambulance service 'to break for training'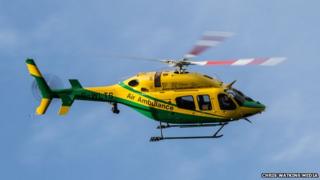 Wiltshire will be without a dedicated air ambulance for part of January because pilot safety training has not been completed on time.
Wiltshire Air Ambulance (WAA) was due to begin operating a new helicopter on 1 January.
A spokesman for the charity said cover would be provided by neighbouring air ambulances until at least 9 January, possibly longer.
The current contract, which is shared with the police, ends on 31 December.
WAA Chief Executive David Philpott said: "Because we wanted to maintain cover over the busy Christmas period and get maximum cost efficiencies out of our current contract which we share with the police, there will be a delay of a week or so while we enhance our safety training on the Bell 429 and satisfy the Civil Aviation Authority of our mission readiness.
'Air ambulance cover'
"We take the safety of our crew and passengers very seriously and categorically will not compromise in this vital area.
"We are confident, however, that the people of Wiltshire will still have robust air ambulance cover which will be provided by neighbouring air ambulances."
A spokesman said WAA paramedics will also use a rapid response vehicle to attend emergencies while the helicopter is not flying.
The charity says the new Bell 429 model will be the first to operate as an air ambulance in the UK.
It will cost £6,850 per day, paid for through public donations, to keep the leased helicopter flying.
A 24-year joint partnership with Wiltshire Police for the existing helicopter will finish on 31 December, when the force joins the National Police Air Service (NPAS).