Solstice celebrated at 'new' long barrow in Wiltshire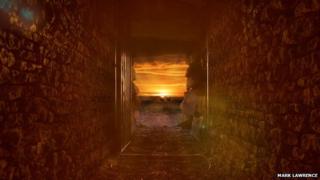 The winter solstice has been celebrated at the first "Neolithic" long barrow to be built in the UK for 5,500 years.
The burial chamber near Devizes, which can hold about 1,000 cremation urns, was completed earlier this year.
The structure is aligned to the sunrise of the solstice, allowing the sun to illuminate the internal stone passageway.
About 50 people, from as far afield as London and Derbyshire, attended the ceremony.
Tim Daw, who built the long barrow, said: "I think we got [the alignment] right when we marked it out with a couple of sticks all that time ago.
"I wasn't sure what we were going to do if the sun had come up in the wrong place."
Mr Daw said about two thirds of the niches have been reserved and urns with cremated remains in them have already been placed within the mound.
The ceremony was held on the morning of this year's winter solstice - the moment when one hemisphere of the world has reached the point tilted most towards the sun and the other is tilted furthest away - which will occur at 23:03 GMT.
A separate winter solstice ceremony took place at nearby Avebury, and further ceremonies are due to take place at Stonehenge and Avebury on Monday morning.