Swindon hospital A&E: Non-emergencies urged to stay away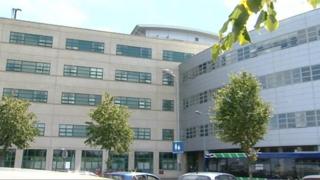 Non-emergency patients have been urged to stay away from Great Western Hospital in Swindon due to a high demand for services.
Staff said demand was "much higher" than normal, with 667 patients attending over the weekend, and 245 of those having to be admitted.
A spokesman said during a four-hour period on Monday less urgent patients were sent elsewhere.
Existing patients and people already at A&E were still treated.
Michelle Kemp, chief operating officer at Great Western Hospitals NHS Foundation Trust, said "high demand" had caused the problem.
"It's essential all organisations work together to help manage the increased pressure on services so that we can continue to provide safe care to our patients."
Demand for services at the hospital has continued to grow, with an extra 762 patients attending last December, compared with December 2013, the spokesman said.
They added staff now cared for about 1,300 more unplanned patients a month, compared to 2011.