Becky Godden's mother 'confident' of change to arrest procedures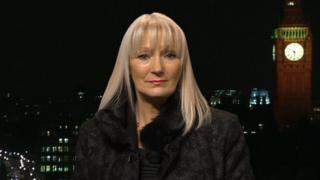 A woman campaigning for changes in arrest procedures after her daughter's murder says she is "very confident" it is "not too far away".
Karen Edwards, whose daughter Becky Godden was killed, said a meeting at Downing Street went "extremely well".
Her campaign began after Christopher Halliwell, who led police to Miss Godden's remains in Gloucestershire, was told he would not be prosecuted.
A judge ruled detectives had ignored arrest rules in the case, in 2011.
Mrs Edwards is calling for a review of the Police and Criminal Evidence Act (PACE).
Halliwell indicated to police he knew where Miss Godden's body was after confessing to the murder of Sian O'Callaghan.
He is currently serving a minimum 25-year jail term for Miss O'Callaghan's killing.
As part of her campaign, Mrs Edwards wants police to be able to wear body cameras and said the change was "much needed".
Having also handed in a 42,000-name petition, she described the Downing Street meeting as "more progressive than I could believe" and said "I do think it will happen".
On the day Halliwell led detectives to Miss Godden's remains, he also confessed to killing her.
'Focus on grieving'
But a judge ruled his confession was inadmissible because Det Supt Steve Fulcher had ignored arrest guidelines and not read Halliwell his rights when he was arrested.
It is thought Becky Godden was murdered in about 2003. Her body was found in a field in Gloucestershire.
Mrs Edwards said she felt "relief" after handing over the petition and plans to "focus on my grieving".
She said her hope for the future is that somebody will be convicted of her daughter's murder.