Fake Help for Heroes collection 'soldier' Liam O'Brien jailed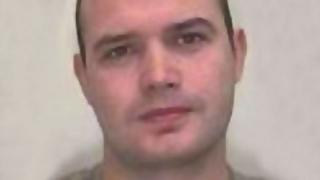 A Wiltshire man who posed as a serving soldier and falsely claimed to be collecting money for the charity Help for Heroes has been jailed.
Liam O'Brien, 32, from Chippenham, was found with more than £500 in cash when he was arrested in November 2014.
Swindon Crown Court heard he was wearing a military uniform despite never having served in the forces.
O'Brien was jailed for three and a half years after pleading guilty to 12 charges including seven fraud offences.
Judge Peter Blair QC said O'Brien had risked "serious damage" to public goodwill towards the charity and he regarded this as "an extremely heinous act".
The court heard O'Brien had applied to be a collector for the charity at the end of December 2013, just days after his release from prison for previous fraud offences.
'Deceived public'
He was authorised to collect for the charity in the following February, but this was withdrawn within weeks when he failed to send them any money.
The court was told O'Brien was seen outside London's Victoria station on 7 October collecting for Help for Heroes, wearing a sergeant's uniform and carrying a red bucket.
He was arrested on 4 November when he was spotted doing the same thing at Bath Spa station.
O'Brien was again wearing a sergeant's uniform and carrying fake ID cards.
He admitted seven counts of fraud and four counts of possessing articles for use in fraud.
He also pleaded guilty to a charge of handling stolen goods after using personal details stolen from hotel guests to buy goods and services.
Jo Brookes, Income Protection Officer at Help for Heroes, said: "O'Brien pretended to be a serving soldier and deceived the public into thinking they were making donations which would help our wounded.
"Instead he was cashing in on their goodwill and using the money for his own personal gain.
"Our anti-fraud measures helped the police catch him quickly and we're delighted he's behind bars."