Calne leisure centre revamp call made to shareholders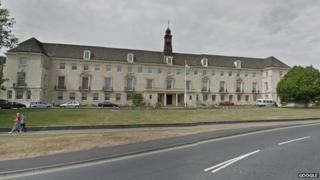 A community-run leisure centre is set to go back into the ownership of Wiltshire Council, under plans by the board that runs the facility.
Since 2008 Calne Leisure Centre has been owned by the community to keep it open but the board wants the council to own it again so it can be refurbished.
Board chairman Kevin Wells said: "It's an ageing 1970s building so it really does need that capital investment."
The revamp is part of a £80m plan to regenerate 18 Wiltshire market towns.
Shares of £10 each were sold when the centre was run by the community but this was only to enable shareholders to vote on how the centre was run.
The board has a lease to run the centre until November 2017 but has said the same opportunity may not be available in the future.
Mr Wells added: "We've been in negotiations with the council for some months now, and we're recommending to shareholders to unanimously to transfer the lease to Wiltshire Council.
"For us it secures the future of the centre and for the staff as well."
A shareholder vote is due to take place on Tuesday 3 February.