Honda car production falls at Swindon factory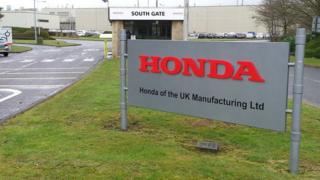 Production of new cars at Honda's Swindon plant has fallen by 14% in the past year.
The Society of Motor Manufacturers and Traders (SMMT) figures show 121,799 cars were built at South Marston in 2014 compared with 138,812 in 2013.
Overall the UK saw a 1.2% increase in car manufacturing last year.
Ben Foulds from SMMT said going from two production lines to one at South Marston last year "was always going to have an effect" on the numbers.
'New models'
In 2012 SMMT figures showed 165,630 cars rolled off the production line.
Mr Foulds said: "I think the future's looking pretty bright. There's a few new models due to start production this year."
A Honda spokeswoman said Swindon is "an integral part of Honda's plans for the future".
She said the the new CRV, currently being launched in Barcelona, will be built in Wiltshire and a new Civic Tourer and the Civic Type-R are both on their way.
The Japanese carmaker opened in Swindon in 1992.