Overdose soldier Richard Jones 'suffered psychosis'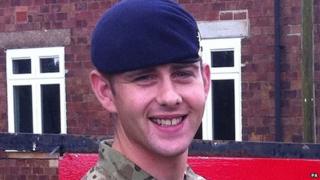 A soldier who died from an overdose of painkillers was "suffering some sort of psychosis", an inquest has heard.
Lance Bombardier Richard Jones, 23, from Caerphilly, was found dead at his Wiltshire barracks in October 2012.
Assistant coroner Ian Singleton reached a narrative conclusion as he "could not be sure" Lance Bombardier Jones had intended to take his own life.
He said he would write a report to all agencies involved in Lance Bombardier Jones' care.
The body of Lance Bombardier Jones, of the 14th Regiment Royal Artillery, was found in Larkhill on 15 October 2012, beside a handwritten note to his wife Jodie which said "you deserve better".
No systematic failure
Wiltshire and Swindon Coroner's Court heard the soldier had used the fitness supplement "Hemo-Rage", which was removed from sale in the UK in 2011 and 2012.
The court heard he may have been worried taking a banned supplement could end his career.
The inquest heard he had started to suffer delusions and paranoia.
On 11 October, his wife took him to Salisbury District Hospital as she was concerned he was "suffering a psychiatric breakdown" but they left before seeing a doctor.
He then saw his GP on 12 October and his wife took him back to the hospital on 13 October, but again they left before seeing a mental health worker.
Speaking after the inquest, his parents Pamela and Jeffrey Jones said they were "devastated".
The coroner said: "This was not a case where there was a systematic failure, nor do I find that those who were responsible for Richard's care contributed to his death by their acts or omissions.
"He was suffering from some form of psychosis which gave him difficulty, on occasion, to distinguish reality from fantasy."
The coroner's report will also be sent to the secretary of state for health.