Wild boar concerns prompt survey of north Wiltshire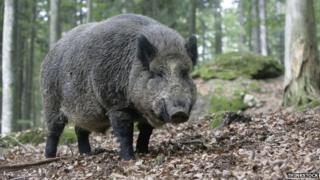 Growing concerns about wild boar numbers in north Wiltshire have led to official survey work being carried out.
MP James Gray has written to Natural England suggesting a "significant increase" of numbers could have "very worrying consequences".
He said he was "uneasy" about the number of sightings and feared numbers were "out of control".
A survey of the area is now under way, led by the Department for Environment Food and Rural Affairs (Defra).
The news came in a letter to the MP from Andrew Sells, chairman of Natural England.
Mr Sells wrote: "Following recent events and the apparent increase in the incidence of wild boar activity... I understand that Defra and the Deer Initiative are surveying the area to establish wild boar numbers and I am pleased to say that we have provided a member of staff to support that effort."
Feral boar populations are firmly established in the Forest of Dean, 20 miles (32km) away, but lesser known in the neighbouring county of Wiltshire.
The MP shared his concerns earlier this month following a fatal crash on the M4 that was caused by a wild boar.
Two days later, a pig belonging to Princess Anne was killed after a wild boar got on to her Gatcombe Park estate.
The work will include speaking to landowners about sightings and carrying out thermal imaging. A report is due in March.
Mr Gray, the Conservative MP for North Wiltshire, said he was pleased to see action was being taken.
---
What are wild boar?
Ancestor of the domestic pig
Once native to Great Britain but driven to extinction
Escapees from wild boar farms have resulted in feral populations being established
Adult males can stand one metre tall at the shoulder and weigh 100-150kg
The animals can only be kept under licence
Sometimes regarded as dangerous and a direct threat to members of the public
Source: Natural England species information
---