"Rare" £1.3m silver chalice goes on show in Salisbury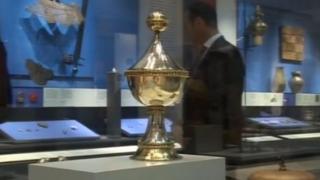 An "extremely rare" 15th Century silver chalice worth £1.3m has gone on show in Salisbury.
The Lacock Cup was owned by the Church of St Cyriac in Lacock and used by its congregation for over 400 years. It was loaned to the British Museum in 1963.
The church was given permission to sell the chalice in December 2012. It was jointly bought by the British Museum and the Wiltshire Museum in 2013.
It will be on show at Salisbury Museum until May as part of a national tour.
David Dawson, from the Wiltshire Museum, said the English silver and partially gilded drinking cup was a "unique survival".
"There is no other cup of its type that has survived from the medieval times.
"So it's a unique survival from the mid-15th Century. It's just amazing," he said.
'Stunning craftmanship'
The British Museum said the chalice was one of the "most significant pieces" of secular English medieval silver and was in "near perfect condition".
"The Lacock Cup is a stunning piece of craftsmanship and has a unique history," it added.
"In the medieval period the cup was used for feasting. In the post-Reformation era, the cup became a sacred vessel: a chalice for communion wine in a Protestant church.
"While this cup is of a type known to be popular in the late Middle Ages, most examples were destroyed due to changing fashions and consequently few pieces remain.
"It was the cup's donation as a chalice to the church [of St. Cyriac] that enabled it to survive destruction.
"A rare survivor, with a unique history, the cup is in near perfect condition today, despite its central role in the community, where it has been used and venerated for centuries."