Churchill waxwork makes £6,500 at Chippenham auction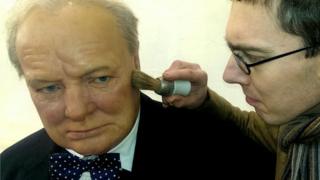 A "highly detailed" life-size wax figure of Sir Winston Churchill has made £6,500 at auction in Chippenham.
The item, one of 32 waxworks, was part of a 1,100-lot sale of the entire contents of the Yesterday's World attraction in Great Yarmouth.
Before the sale the figures were made available for 'selfies' to raise money for Wiltshire Air Ambulance.
A "realistic" and bearded Chelsea Pensioner in traditional uniform sold for £1,500, the auction house said.
However, the Charlie Chaplin and King Henry VIII waxworks failed to sell.
Yesterday's World museum in Norfolk, dedicated to the Victorian era and early 20th Century, closed down in November after it failed to sell as a going concern.
Auctioneer Richard Edmonds said: "They formed various exhibits around the museum and Winston Churchill stood proudly at the entrance to welcome people as they came through the door."