Wiltshire Wildlife Trust 'concerned' about drop in donations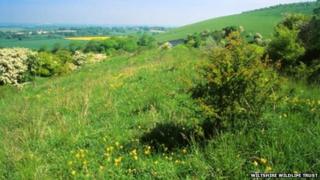 A fall in public donations to a Wiltshire wildlife charity is "a concern", its chief executive has said.
Dr Gary Mantle, from Wiltshire Wildlife Trust, blamed current "economic conditions" because membership numbers fell as the "financial crisis" began.
But he said the trust had seen an increase in volunteers because "people do care about the environment".
Donations and funds from the public were about £880,000 in 2013 but dropped to just under £710,000 last year.
Dr Mantle said: "Of course it concerns me - fundraising is absolutely central to trying to run the charity.
"In a sense, it's like running any business. You have to have your focus on the customers and the products.
"I have to have my focus on the natural environment but we have to have the resources to do that and so funding and fundraising is really important to us and we need all the support we can get."
He said the trust was "looking at other sources and other ways of increasing income streams."
Wiltshire Wildlife Trust manages 37 nature reserves and also works together with local communities to restore "neglected or damaged habitats" to protect both the landscape and the wildlife.