Passengers stranded for hours after train hits debris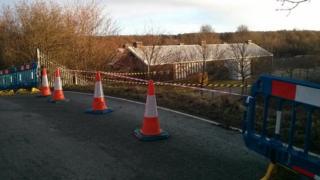 Hundreds of passengers were left stranded for several hours after a train hit debris on a railway line in Wiltshire.
The debris had fallen from a bridge after it was struck by a lorry in Froxfield on Sunday.
The driver of the First Great Western 16:34 service from London Paddington to Penzance needed treatment for shock but no other injuries were reported.
Network Rail said the line had since been reopened after repairs were made.
Andy Mellors, deputy managing director of First Great Western, said: "The train ran into the debris and caused some damaged to the underneath of the train including the braking system and that meant the train had to have some attention on site before we could get it to move forward."
He added the train company would be carrying out a review into what happened so any lessons could be learned from it.
One passenger told BBC Wiltshire: "All of a sudden there was an almighty bang, the lights went out and that was it.
"We all looked at each other and panicked and thought what has just happened, have we derailed, what's gone on?"
She said passengers initially thought the train had struck a tree.
The train was moved on by 23.30 GMT after emergency repairs were made.