Call for Stonehenge access ban to curb 'annual vandalism'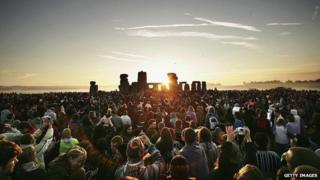 Revellers at solstice celebrations should be banned from getting close to Stonehenge in order to prevent "annual vandalism", a heritage group has said.
The Heritage Journal said the monument was daubed with graffiti, stuck with chewing gum and marked with oil.
Such damage is "only the tip" of "damage and desecration" to the stones over recent years, the group claimed.
But English Heritage said "deliberate damage" was "not characteristic of solstice celebrations".
In December, 1,500 revellers gathered at the ancient monument in Wiltshire to watch the sunrise and mark the winter solstice.
'Distressing damage'
And an estimated 37,000 people descended on the site to celebrate the summer solstice last June.
Despite it being illegal to damage the monument, the stones' curator told the journal numbers had been drawn on them, chewing gum stuck to the stones and excrement found nearby.
But the "most distressing damage", according to the group, was a strip of oil "put on every stone".
"It's still there and it's not degrading," a spokesperson said.
"This is an additional concern as there is still graffiti on the stones from the summer solstice."
'Greatly saddened'
But Jessica Trethowan, from English Heritage, said it took the risk of damage to Stonehenge during solstice celebrations "very seriously" and reviewed access arrangements every year.
"We have a team of stewards on-site throughout whose role includes preventing damage to the stones," she said.
"Unfortunately some damage did occur to the stones during the most recent winter solstice when a number of stones were marked with oil.
"We are greatly saddened by this deliberate damage."