Probe after train hit bridge debris near Froxfield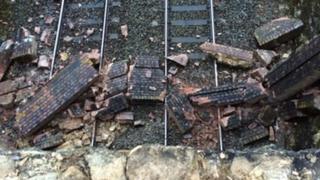 An investigation has been launched after a high-speed train hit debris from a bridge which had been damaged by a reversing lorry.
The accident happened on the line between Reading and Pewsey at Froxfield on the Wiltshire/Berkshire border.
The Rail Accident Investigation Branch (RAIB) said nobody was hurt in the incident on 22 February but the impact "lifted the front of the train".
Inspectors said some 13 tonnes of debris was left on the rail line.
The RAIB said the First Great Western train from London Paddington to Penzance stopped "after travelling a further 730 metres (800 yards)" and that the driver could not have avoided the collision.
"The leading power car sustained underframe damage and there was damage to the train's braking system," investigators added.
The initial report said the bridge had been struck after the lorry driver had driven down an unclassified road and realised it was too small for his lorry.
"The lorry driver stopped before the canal bridge and attempted to reverse round a bend and back over the railway bridge without assistance," the initial report said.
"[The driver] was unaware when the rear of his trailer first made contact with, and then toppled, the brick parapet on the east side of the railway bridge."
Another motorist called 999 minutes before the train passed the scene.
Passengers on the First Great Western service said there was an "almighty bang" before "the lights went out".
"We all looked at each other and panicked and thought what has just happened, have we derailed, what's gone on?"