Sir Terry Pratchett: Dementia charity's donations surge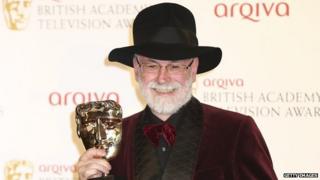 More than £40,000 has been donated to a dementia charity in memory of fantasy author Sir Terry Pratchett.
He died last week aged 66 following a public struggle with Alzheimer's disease.
Sir Terry had been praised for raising awareness of the condition after he was diagnosed with a rare form in 2007.
The Research Institute For The Care Of Older People (Rice) said there had been a "huge pledge" of funds after his death.
'Unique character'
Sir Terry, who lived near Salisbury, Wiltshire, began attending the charity's centre in Bath in 2008 and was cared for by director Prof Roy Jones.
It carries out research into assessment, diagnosis and treatment of dementia.
Prof Jones said Sir Terry was a "unique character" who had raised the profile of Alzheimer's disease and other forms of dementia.
"His courage in doing this has been an enormous help to everyone affected as well as to researchers trying to find a more effective treatment," he said.
The charity was established in collaboration with the University of Bath and the Bath Health Authority in 1984.