Wilts and Berks Canal Trust £600,000 restoration plea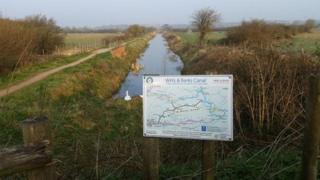 An appeal to raise £600,000 to "urgently" restore a stretch of the Wilts and Berks Canal is under way.
The Studley Grange Project aims to bring a 1.2km (0.75 mile) section near Royal Wootton Bassett back to life.
It will link up with Chaddington Lock, which was restored 10 years ago. A former landfill site will also be converted into wildlife trails.
The Wilts and Berks Canal Trust said the canal had been derelict for a century.
Work will include the widening of a stream and the rebuilding of a humpback bridge.
"The work is urgent because the landfill site is closing at the end of this year," Chris Coyle, from the trust, added.
"We must do some work now because of environmental reasons; we want to clear some hedgerow before the birds nest. So we need to get on with that work."
To begin the £50,000 preliminary works, including site clearance and ground investigation ahead of the main excavation, the trust needs to raise £25,000.
The rest has been match-funded "pound-for-pound by a very generous supporter".
"I think it will boost tourism, but I think it'll be as much for tourism as for the local community," Mr Coyle continued.
"We're working with Friends of the Earth and Wiltshire Wildlife Trust to make it all happen. To restore the canal [into] a beautiful community asset.
"We love the idea of turning, what is fundamentally something not very nice at the moment, a landfill site, into something which is a real beauty."
The waterway links the River Thames at Abingdon with the Kennet and Avon Canal near Melksham.