Fire-hit Averies Recycling 'pursued' to remove waste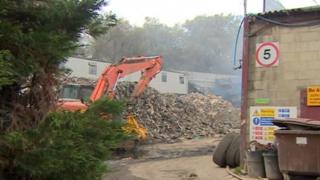 The operator of a fire-hit recycling plant in Swindon will "continue to be pursued" to remove all waste from its site despite going into liquidation, the Environment Agency (EA) has said.
A blaze raged at Averies Recycling (Swindon) Ltd's Marshgate site for more than two months last year.
The EA gave the company until 15 April to clear the site but in January the firm went into administration.
Colin Chiverton, from the EA, said: "We will continue to pursue the landowner."
The agency has estimated the cost of clearing the site at £1m but said it had "no intention" of using public money.
"We set the deadline to remove it [the waste] on the basis the company would continue to exist - they no longer exist, so the deadline is no longer valid," said Mr Chiverton.
"But the company was operated by the Averies family and it is down to the Averies family to clear that site up and we're not letting this go."
The blaze burned from 21 July until 15 September, and cost an estimated £500,000 to tackle.
The fire was finally put out after 3,000 tonnes of waste were removed to give firefighters access.
The BBC has been unable to contact Averies for a comment.