Semington human trafficking suspects arrested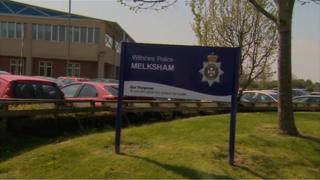 Three men have been arrested on suspicion of human trafficking offences after concerns eight men were being exploited.
The men, aged 28, 33 and 37, were arrested at a travellers' site in Semington, Wiltshire, and questioned at Melksham Police Station.
The alleged victims, thought to be Romanian, were taken off the site and are being cared for by Red Cross staff.
Police said the three arrested men have been bailed pending further enquiries.
'Dishevelled'
Supt Sean Memory, of Wiltshire Police, said: "We've been working on this for a couple of weeks to make sure the men that we rescued are properly treated.
"It would appear the men are in forced labour or working very, very cheaply. That's the reason why we've acted on the information."
Supt Memory said the men were "dishevelled" and living in caravans with very poor sanitation. He believes they were being used to lay driveways.
Wiltshire Council, British Red Cross, NHS England, medical helpline firm, Medvivo, The Salvation Army and the UK Human Trafficking Centre are working with the police.
Maggie Rae from Wiltshire Council said: "There were four or five [men] to small caravans - it didn't look as if there was any proper running water, showers or toilet facilities.
"They were terrified and I think that is a very common theme... because although we felt we were there as the good guys, I suspect they didn't know if they were coming or going."
"We're primarily interested in their safety, welfare, their health... to make sure their basic human needs are met."
Police have appealed for information about three firms operating in the area; Newstone Barrett Driveways, Drivescape Ltd and Signature Driveways.