Wiltshire Police accept black officer tribunal findings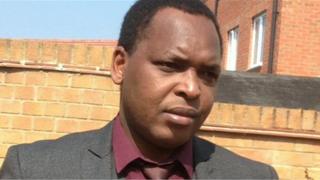 A tribunal which found a black police officer was racially harassed and discriminated against will not be challenged, Wiltshire Police has said.
PC Ronnie Lungu, 40, from the force, was passed over for promotion and derogatory comments were made about his skin colour.
Wiltshire Police confirmed earlier it would not appeal the judgement but instead planned to learn from the case.
Police and Crime Commissioner Angus Macpherson has welcomed the decision.
'Making changes'
A spokesman for the force said: "This case has shown that we cannot be complacent and the organisation must continue to learn.
"We shall now begin the process of assessing what the next steps are and how we can take this learning forward."
Mr Macpherson has asked the police force to report back to him on a monthly basis to show how it is learning from the tribunal's findings.
He said: "The organisation needs to accept the findings and to set about making changes which will convince ethnic minority communities in Wiltshire and Swindon that it is committed to equal opportunity and diversity."