Mike Veale named as Wiltshire Chief Constable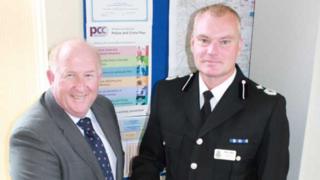 The new chief constable of Wiltshire has been named as Mike Veale who currently holds the position of Deputy Chief Constable (DCC) in the county.
Mr Veale will succeed Pat Geenty, who announced his retirement in February.
Police and Crime Commissioner for Wiltshire and Swindon Angus Macpherson, said Mr Veale is "committed to my agenda of maintaining local policing".
Mr Veale said the challenge would be to save money while protecting frontline services. He is due to start on 1 June.