Duke of Edinburgh opens new Devizes care centre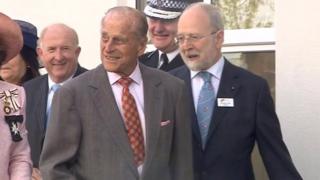 An £8m care centre in Wiltshire has been officially opened by the Duke of Edinburgh.
Prince Philip met staff and residents at the Hayward Care Centre in Devizes, unveiled a commemorative plaque and signed the visitors' book.
The care centre is named after local hero Reginald Hayward, who served in the 1st Battalion the Wiltshire Regiment during World War One.
The Duke of Edinburgh is colonel-in-chief of The Rifles regiment.
The centre is run by Oxfordshire-based The Orders of St John Care Trust.
Wiltshire area operations manager, Alison Stenning, said: "We're all absolutely delighted that the Duke of Edinburgh has done us the honour of coming to open Hayward Care Centre to recognise the link with a local hero.
"All our residents and staff have been really looking forward to meeting him and to show off our beautiful new home."
Prince Philip met several residents, including 92-year-old Betty Key, who said it was a "great honour and a pleasure".
She said: "I really enjoyed talking to him. It has been very exciting having such an important royal visitor at our home to lead our celebrations."
The Hayward Care Centre replaced two existing care homes in Devizes - Anzac House and Southfield - and specialises in dementia care.