Houseboat owner praised for rescue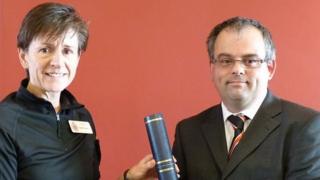 A houseboat owner who rescued a man from the Gloucester to Sharpness Canal has been honoured for his bravery.
The man in his 60s fell into the canal one night last August.
Martin Bunce, from Quedgeley, heard his shouts and threw the man a lifebelt and held on to him for nearly half an hour until emergency services arrived.
At a special ceremony, Mr Bunce was presented with a bravery certificate by Gloucestershire Chief Constable Suzette Davenport.
Mr Bunce, who works at Gloucestershire Airport, said he had been unable to lift the man out of the water but was glad the man had not suffered lasting injuries.
'Not letting go'
"It was a spur of the moment action but being dark and with me not really knowing what had happened, it wasn't that easy to resolve the situation," he said.
"It was also a struggle to contact police while not letting go of the victim."
In his citation, it said it was to his "great credit" that he heard a splash in the water and left his boat to investigate.
It went on to say: "His prompt reactions undoubtedly saved the male's life and ensured that he was removed from the water without suffering undue exposure."